Early Production Riser (EPRS)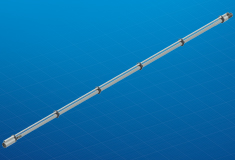 Oil States' Early Production Riser System ( EPRS), offers revenue from subsea wells before subsea production infrastructure is installed. Using our Merlin® connector solution in open water allows floating installations to capture and produce oil and gas safely and economically while the downstream functions are completed, generating faster returns across the project.
Sales Contacts
Email +44 (0)1224 290 000
Key Features
15K and 10K variations available.
ISO 13628-7 compliance.
Full NACE compliance.
Self-contained makeup so floater without rotational facilities can be utilized.
Applications
Early production riser system
Workover riser system
Completion riser system
Services
Engineering
Analysis
Fatigue monitoring
Lifecycle management
Maintenance