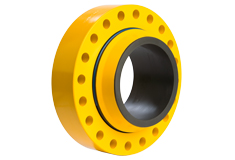 The Oil States Swivel Ring Flange (SRF) is the most commonly used flange for shallow water pipeline repairs. The SRF allows the diver to line up bolt holes with the mating weld neck flange. This significantly reduces the time needed to complete the repair operation.
The SRF utilizes a spring steel retainer ring to capture the rotating flange component of the connector, thus eliminating welded retainers and permitting the removal of the retainer ring. This also makes it possible to clean and lubricate the swivel ring interface between the hub and flange after fabrication and coating to ensure easy rotation during installation
Stock inventory sizes are available from 2″ to 24″ for immediate delivery. Additional sizes available upon request.
Sales Contacts
Email +1 713 920 9800
Key Features
Simple design facilitates bolt-hole alignment.
Spring retainer eliminates welded retainer components.
Removable retainer allows for cleaning and lubricating of the hub-to-flange interface.
Thicker flange ensures ability to handle higher-stress loads, which some brands fail to meet.
Fully compliant with ASME Section VIII.
Applications
Pipeline repair operations – shallow water, diver assist
Pipeline new construction for tie-in point – shallow water, diver assist
Services
Engineering design
Testing – FAT, SIT design qualification
Coatings
Installation technical assistance