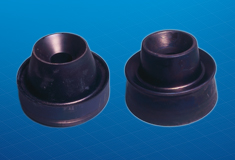 Oil States offers replacement rubbers for various types/styles of tubing stripper heads. These rubbers are manufactured by Oil States utilizing a proven oil- and abrasion-resistant rubber compound developed by our Elastomer Technology Center.  Tubing can be pulled or run in-hole through the rubber with pressure still on the well while also stripping fluids from the tubing O.D. to provide a cleaner job site. Replacement rubbers are offered for Larkin, Hall, Guiberson, BIW, Gulfco, Huber, Norris-Hinderliter, Petromec, OCT, PGSR, Rector and Marcom tubing stripper heads.
Sales Contacts
Email +1 817 548 4200
Key Features
Proven oil- and abrasion-resistant rubber compound.
Replacement rubbers available for many brands.