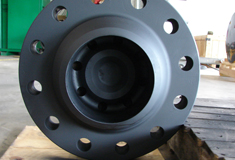 The Oil States TapAble Flange is a cost-effective, pressure- containing alternative to a subsea valve tie-in. The flange reduces the cost of fabrication time associated with a typical subsea valve assembly. When ready for the lateral tie-in, a hot-tap machine is installed to tap out the flange blank.
The flange is machined from a single, A694 forging, which eliminates welding issues and possible project-specific C.E. requirements associated with cast flanges.
Sales Contacts
Email +1 713 920 9800
Key Features
Provides pressure containment without the use of a subsea valve.
Lower cost than a valve, from manufacturing to installation.
Unique tapping machine that is user friendly.
Forged body construction eliminates welding issues with cast flanges.
Less costly than mechanical hot tap clamps.
Applications
Pipeline repair operations – shallow water, diver assist
Pipeline new construction for future tie-in point – shallow water, diver assist
Services
Engineering design
Testing – FAT, SIT design qualification
Coatings
Installation technical assistance