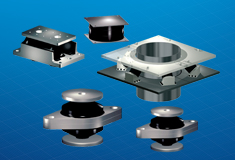 Oil States is a highly experienced supplier of engineered elastomeric bearing systems. Our designs are developed using proprietary methodologies that define the state of the art for laminated elastomeric bearings.
Oil States elastomeric bearings are in service in numerous offshore systems, including turret support, top-of-column isolation, shock cells and fendering systems.
Sales Contacts
Email +1 817 548 4200
Key Features
Long service lives.
Effective isolation of couple structures from dynamic shear loads and moment.
Fit-for-purpose designs.
Applications
Turret bearing systems
Top-of-column isolation systems
Shock cells
Seismic isolation systems
Process module isolation systems
Services
Design
Proof testings
Field technical service