CoolForce™ Water Cooled Brake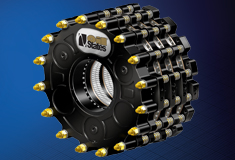 Only Oil States CoolForce brakes offer a removable composite water jacket insert to reduce life-cycle costs by simplifying field maintenance and rebuilds.
The replaceable insert also eliminates corrosion resulting from contact of the copper backing plate with the cast iron supporting structure inside the water jacket.
The CoolForce brake offers a high-torque rating and thermal performance against the traditional water-cooled brakes, but their innovative, composite-jacket insert design eliminates time-consuming weld repairs and re-machining of the interior features of the water jacket.
Sales Contacts
Email +1 817 548 4200
Key Features
Patented replaceable water jacket insert.
Cost reduction on field rebuilds.
Superior performance.
High quality.
Replacement parts.
Applications
Oilfield draw works
Marine mooring winches
Paper rewind stands
Metal/steel unwind stands
Dynamometer
Services
Engineering design
Application support
Customer service
Field sales
Economical rebuild services