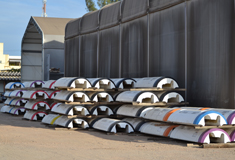 For decades, Oil States Industries has provided comprehensive buoyancy module services to support the needs of drilling contractors and service providers in the Brazilian market. Not only does the Macaé, RJ facility provide high-quality inspection, maintenance and repair services for all brands and types of modules, but Oil States can help to optimize your maintenance program through turnkey, buoyancy module fleet management services.
Sales Contacts
Email +55 22 2763 4300
Key Features
Comprehensive turnkey buoyancy module fleet services available to restore modules from various OEM's to like-new condition, extending the life of your assets and saving you money.
Technicians can evaluate flotation modules and provide inspection reports with recommended repairs on site at the customer facility.
All repairs carried out to OEM standard.
All materials used are OEM standard or higher specification.
Flotation module repair facility optimized for all types of flotation repairs and includes covered space, sanding cabin with HSE-compliant dust-extraction, as well as a 20ksqm. buoyancy test tank and load center for digital testing.
Services
Buoyancy logistics and storage
Detailed inspection reports and recommendations
Comprehensive repair and testing services for both marine riser and flexible lines
ROV buoyancy repair and lift test
Lifeboat buoyancy inspection and repair
G.R.P. protector and riser guard repair