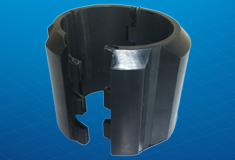 Regal™ Control Line Protectors are designed for use in well completions using control lines, sensor lines and submersible pump cables. Careful consideration must be given to the protection of these lines and cables, and the Regal Control Line Protector is designed to provide maximum protection while minimizing installation costs.
Sales Contacts
Email +1 817 548 4200
Key Features
Easy installation.
Reinforced slot structure.
Design allows for bundling of lines on each side.
Applications
Well completions utilizing control lines and/or sensor lines
ESP Installations