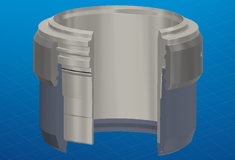 The mudline makeup and release (MMR™ connector) is a fast-makeup connector that has been used in operations around the world. The MMR™ connector is designed to incorporate large load-bearing faces so that it is suitable for piling operations. The connector can be easily disconnected subsea with no requirement for umbilical lines back to surface. The interfaces on the MMR connector box allow you to tie back onto the connector at a later date with a stab-in pin which requires no tools for assembly and is secured with an external lock ring.
Key Features
No requirement for umbilical lines to surface.
Field proven.
Easy disconnect subsea.
Ability to tie back to the well after abandonment.
Applications
Conductor remote release
Tie back at a later date
Services
Engineering
Maintenance
Bespoke sizing
Testing