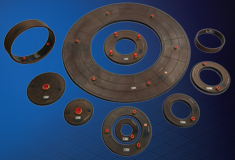 Oil States Air Tube actuators are used in disk-type clutch and brake applications found on a wide variety of machinery used in power transmission and braking.
The Oil States Air Tube is constructed with high-quality elastomers and fabrics which, coupled with our 65 years of experience manufacturing these type of actuators, make us the leading manufacturer of this product.
Its high-quality construction and reliability make the Oil States Air Tube the best solution for OEM and replacement applications.
These parts directly interchange with most popular disk clutch applications utilizing the air tube actuator.
Sales Contacts
Email +1 817 548 4200
Key Features
High-speed applications.
Low-volume options.
Low-temperature elastomer's available.
Complete line offered including high-torque tubes.
Replacement interchange with most disk clutches worldwide.
Applications
Industrial machinery
Ball-mill applications
Oilfield applications
Metal-forming equipment
Rubber-processing machinery
Services
Engineered applications
Application support
Customer service
Field sales support
One year warranty
Available from stock