Precision Machining & Cladding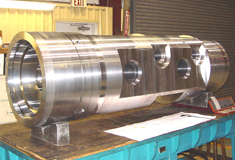 Montgomery Machine Company (MMC) is a high-specification, precision- machining and specialized-weld overlay company.  MMC has been providing precision-machined components to the oil and gas, chemical, medical, power generation and energy markets for 40 years.  Major oil and gas companies have trusted MMC to supply subcontract components that meet their highest standards for pressure, performance and safety.
MMC has been a unique supplier for items that require corrosion-resistant weld overlay or cladding technologies.  Weld overlay materials include 300, 400 and duplex stainless steels, high-nickel alloys such as 625, 725, 825, Hastalloy and some cobalt-based materials.  These capabilities, coupled with precision machining, give you turn-key solutions that save time and money.
Sales Contacts
Email +1 713 453 6381
Key Features
High-specification machining
Corrosion-resistant weld overlay/cladding
Applications
Precision machining
Specialized weld overlay
Services
Precision machining
Weld overlay/cladding
Inspection