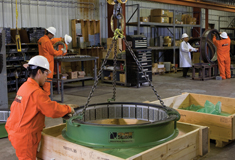 Listed is a breakdown of components or kits available to support the CB, VC, CM and CF clutches and brakes:
CB and VC clutches – Replacement drums, hubs and spider hardware are available in all sizes. Replacement friction shoes and pads are available in kit form. Springs, torque bars, air connections and QRVs are also available.
VC clutches – Replacement actuation tubes along with replacement side plates and mounting hardware.
CM clutches – Replacement friction shoe kits.
CF brakes – Replaceable copper disks, friction blocks and disks, replaceable reaction plate and mount flange inserts, gears, air tube actuators and piston seals.
Sales Contacts
Email +1 817 548 4200
Key Features
Components for replacement are available through distribution and stocked at the factory for immediate delivery.
Components are directly replaceable with other commonly designed brakes for CB, VC and CM applications.
Replacement mount flange and reaction plates for the water- cooled brakes include the OSI-patented replaceable insert, friction and copper kits, and brake components as well as seals, air tubes and other components.
Ability to modify the design to suit customer requirements.  ABS-certified designs available.
Can support additional mounting or application requirements.
Services
Field service support
In-house design and application assistance