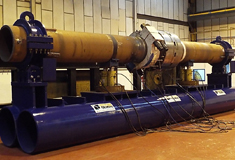 Oil States Industries' advanced structural-test laboratory is internationally recognized for testing tubing and casing to ISO 13679:2002 <FDIS 2011E>-API 5C5 201 Standards and has been UKAS-accredited since 1992. The Oil States Test Laboratory meets the ISO Standard BS/EN/ISO/IEC 17025 and is designed to simulate normal and extreme operational load cases for product evaluation, prototype development and design validation of FEA analytical models.
Testing is routinely conducted on structures including: wellhead connectors, valve systems, production tubing and casing, work-over risers, tendon connections and flexible risers.
The Oil States Test Laboratory offers complete testing services to oil companies, oil service companies, civil engineering and aviation transportation companies.
Sales Contacts
Email +44 1224 290 000
Key Features
8000 ton rig <80MN> tension rig – Primarily used for conducting tension test on TLE tendon connector.
1000 ton rig <9964kN> – 5.1/2″ <140mm> to 7.1/2″ <190mm>
tubulars testing – Tension 1000 ton/compression 800 ton.
2000 ton rig <19928kN> – 7.5/8″ <194mm> to 30.0″ <762mm>
tubulars testing – Tension 2000 ton/compression 1000 ton.
2400 ton rig <23914kN> – 7.5/8″ <194mm> to 30.0″ <762mm>
tubulars testing – Tension 2400 ton/compression 1600 ton.
Torque rig – 100,000 ft.lbf – 2.3/8″ <60mm> to 22.0″ <559mm>
bend rig – 9,000,000 ft.lbf bending capacity – 7.0″ <178mm> to 36.0″ <914mm>.
Applications
Performance evaluation of high-pressure casing and tubing
ISO 13679:2002 <FDIS 2011E> API 5C5-2014
Performance evaluation of connectors for use in pipelines
ISO 21329:2004
Wellhead and Christmas tree equipment
API 6A – ISO 10423:2003
Completion – Workover riser systems
API 17G – ISO 13628-7:2005
Subsea wellhead and Christmas tree equipment
API 17D – ISO 13628-4
Services
Tension-compression trials
Torsion trials
Bend and pressure
Combined-load trials
Hydrostatic and gas pressure
Temperature cycling