Parts, Accessories and Rebuild Kits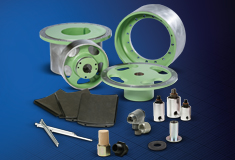 Oil States offers a full line of parts, accessories and rebuild kits to extend the life of our equipment. To complement the Oil States clutch and brake technology, we sell a broad selection of drums, drum hubs, spiders, quick release valves (QRVs), rotary couplings, rebuild kits and more. Please contact the factory for assistance with your specific need and application.
Sales Contacts
Email +1 817 548 4200
Key Features
Hardware for all markets.
Drum and drum hub.
Spiders.
Quick release valves (QRVs).
Rebuild kits and rotary couplings.
Applications
Oilfield machinery
Grinding and mining mills
Marine propulsion
Paper and steel equipment
All markets
Services
Engineering design
Application support
Customer service
Field sales
Replacement parts
Servicing all markets