High-Pressure Drilling Riser (HPDR)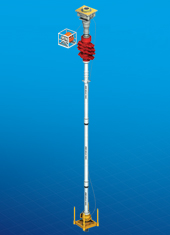 Oil States has been supplying high-pressure drilling risers based on our Merlin™ connector for over 30 years. We currently have 50+ installations around the world. Our system allows a subsea well to be drilled from a jack-up in 5K, 10K and 15K applications, offering significant savings over a semi or floating MODU.
Key Features
Fast makeup and slimline connections keep weight to a minimum.
Non-rotational connections allow the use of flexible control lines.
Through-rotary solutions available dependent on size.
Rental options available to reduce inventory after project.
Applications
Jack-up subsea exploration / production wells
Intervention from a jack-up
Subsea abandonment
Services
Engineering
Maintenance
Repair
Fatigue monitoring
Riser analysis