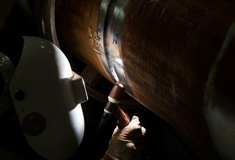 Acute Technological Services (ATS) provides welding services worldwide for both onshore and offshore activities. ATS has more than twenty years experience in providing engineered welding solutions. A leader in the welding industry, ATS is advancing the science of welding engineering and generating technical innovations through the application of new technologies and proven scientific methods.
Sales Contacts
Email +1 713 983 9353
Key Features
Welding engineering and consulting services including systems design, specification development, training and monitoring.
Developmental welding services for procedure design, qualification, process design and specialized testing including weldability, metallurgy, failure and corrosion analysis.
Automatic and manual welding – Orbital GTAW, pulsed GMAW, overlay, buttering, GTAW, SAW, SMAW, FCAW, GMAW and PAW.
Specialized and critical-application welding for deepwater production, riser systems, control systems, flowlines and land-based pipelines.  Capabilities include high-allow welding, coiled tube welding, CNC tube bending and cladding services.
Inspection services for non-destructive (NDT), in-house digital X-Ray and CWI monitoring.
Applications
Critical welding for deepwater applications, multi-jointing of steel catenary risers, flowlines and land-based pipelines
Welding of super duplex, nickel and other high-alloy materials, including control components, couplers, umbilicals and flying leads
Fabrication of cryogenic testing systems for aerospace
Coiled tube services – bending and welding
Cladding services
Services
Welding engineering and consulting
Worldwide welding and full- scale production services
Cladding
Inspection services
Research and development