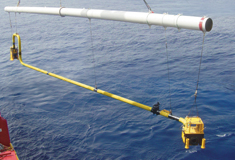 The Oil States Collet Connectors provide a robust and easy-to-install connector for deepwater installations.  Where performance and deepwater reliability count, the Oil States Collet Connector has been delivering proven connector technology for over 25 years.
The collet connector utilizes a rough-landing alignment shroud and guide funnel for initial landing. Once in place, the soft-land cylinders provide final alignment and mating of the sealing surfaces. They also provide sufficient vertical clearance for subsea seal change-out procedures.
The drive ring locks the collet fingers over the male hub for a permanent connection. Seal testing is verified by ROV interface on the integral or retrievable control panel. The panel uses dual-bore, dual-port hot stab couplings for all functions, with visible indicators to verify all function operations. The typical connection can be completed and tested in less than 30 minutes, excluding the running time.
Sales Contacts
Email +1 713 445 2210
Key Features
A proven, versatile design with standard configurations for almost any application.
Fast installation and immediate testing via ROV results in lower installed costs.
Metal-to-metal sealing with one of the highest external pressure ratings in the industry.
Outstanding bending/torsional capacity.
Available in vertical, horizontal and annular styles, with integrated or retrievable control panels/running tools.
Applications
Pipeline repair, new construction, expansion and tie-back operations – deepwater, ROV
Services
Engineering design
Testing – FAT, SIT design qualification
Coatings
Project management
Installation technical assistance