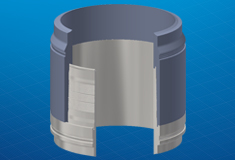 Oil States' Merlin™ connection, in service since the mid 1980s, has been field proven in a variety of applications including: casing, conductor, TLP tethers, drilling and completion riser, caissons and FPSO turrets. It features non-rotational makeup with dual metal-to-metal seals and is safely and rapidly assembled using customized makeup tooling. Merlin™ connectors are manufactured and inspected to extremely tight tolerances, which allows us to carefully control the level of pre-load in an assembled connector. All radial and axial pre-load is generated solely by the geometry of the connector. It is not subject to any of the uncertainty found in rotational connectors due to torque and friction effects. The high, controllable level of pre-load, together with the slim-line profile of the connector, ensures exceptional fatigue performance in the harshest of environments.
See Merlin™ connector animation here.
See Merlin™ Double Groove connector animation here.
Key Features
Over 40,000 Merlin™ connectors supplied, installed and in service today.
Extensively tested including pressure, bending, tension and fatigue.
Exceptional fatigue characteristics.
100% dimensionally checked as standard.
Available in 8.625″ to 72″ for a variety of applications.
Applications
TLP tether connectors
High-pressure drilling riser connections
FLNG water uptake riser connections
Casing and conductor applications
High-pressure workover/completion riser connections
Services
Inspection
Maintenance
Life-cycle management
Fatigue monitoring
Bespoke sizing
Physical testing