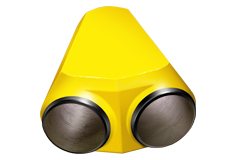 The Oil States Piggable Wye is a Y-shaped fitting for shallow and deepwater subsea pipeline applications that permits pigging and cleaning of lateral lines.
Designs are available in both symmetrical and asymmetrical configurations for various pipeline applications. All designs readily accept standard pipeline pigs, including cup and disk models, for cleaning pipelines.
Sales Contacts
Email +1 713 920 9800
Key Features
Available in symmetrical or asymmetrical designs to accommodate specific pipeline configurations.
Utilizes a thirty-degree angle of entry to ensure a smooth transition for the pig without the risk of hanging up.
Manufactured from a single-body forging or casting to ensure consistency of materials and workmanship.
Standard weld ends can be provided with additional configurations upon request.
ANSI pressure Class 300 to 2500, API 6A ratings 2000 to 10000, ASME compliant design.
Applications
Pipeline pigging operations – shallow and deepwater, ROV or diver assist
Services
Engineering design
Testing – FAT, SIT qualification
Coatings
Installation technical assistance