FlangeMate Misalignment Connector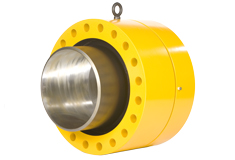 The Oil States FlangeMate Misalignment Connector is a highly engineered product that facilitates the connection of flanged tie-ins for underwater pipelines. The FlangeMate allows for 10 degrees of angular misalignment (20° total misalignment), bolt-hole alignment and metal-to-metal sealing. Metal-to-metal sealing is repeatable and can be verified via an annulus test port.
See the FlangeMate connector animation here.
Sales Contacts
Email +1 713 920 9800
Key Features
Angular misalignment of 10° (20° total misalignment).
Bolt-hole rotation aligns bolt holes with those of the weld neck flange to facilitate quick makeup.
Repeatable metal-to-metal seal that can be verified via annulus test port.
Enhanced wiper seal system to isolate the metal sealing area from contaminants.
Designed to accommodate high-capacity flange spreader loading.
Applications
Pipeline repair operations – shallow water, diver assist
Services
Engineering design
Testing – FAT, SIT qualification
Coating
Installation technical assistance