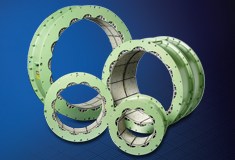 The VC units are designed and built for severe clutch and brake applications where large-inertia loads are required.
The VC is ideal for severe, high-torque applications. The ELASTA-FLEX™ VC brake serves as a durable, high-thermal- capacity drum clutch or brake. The unique design of the ventilated friction-shoe assembly allows for a high volume of air flow across the entire shoe length, enhancing heat dissipation, preserving the elastomeric actuator tube and extending overall clutch life. Virtually all components used in the VC design are replaceable.
Sales Contacts
Email +1 817 548 4200
Key Features
High-torque, low-speed applications.
Reliable, large-inertia design.
Heavy-equipment and severe-operating applications.
High quality.
Replacement parts.
Applications
Oilfield machinery
Grinding mills
Marine propulsion
Paper equipment
Cement mills
Services
Engineering design
Application support
Customer service
Field sales
Replacement parts
Rebuildable