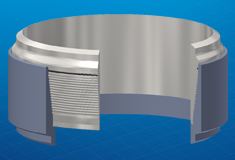 The Oil States Swift™ connector is a heavy-duty, threaded connection that has been in operation worldwide for over 30 years. Offering a gas-tight, metal-to-metal seal specifically for intermediate casing, the 20" and 22" versions have been tested to ISO 13679:2002 cal 1. The Swift connector has been designed to offer a cost-effective solution that can be run by casing crews with an optional anti-rotation design.
See Swift connector animation here.
See Swift AR connector animation here.
Key Features
Gas-tight, metal-to-metal seal.
Optional integral anti-rotation.
Field proven in HPHT applications.
Clear visual indication of makeup.
Pre-loaded for fatigue
Applications
HPHT
Casing
Conductor where metal-to-metal sealing is required
Services
Engineering
Maintenance
Bespoke sizing
Testing