Refurbished Nautilus™ Crane installed and commissioned on Shell FPSO Fluminense offshore Brazil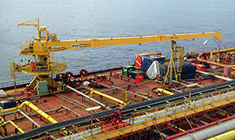 Oil States Industries has completed the successful installation, testing, and commissioning of a 26-ton Nautilus™ Crane on board the Shell FPSO Fluminense in the Bijupira and Salema Fields in the Campos Basin.  The Fluminense is installed about 295 km offshore of Rio de Janeiro city.  The refurbishment involved complete disassembly and inspection, reassembly, and functional testing; test lifting the assembled crane and transporting it to the dock, all while maintaining the crane's original API 2C certification.
Beyond the technical challenges, an aggressive timeline, coordination of nearly a dozen different contributing companies, language barriers, and cross-border logistics all added to the complexity of this project, and the significance of the successful outcome.
"This safe and on-time crane commissioning is a huge achievement, and it ushers in a new phase in the life of these fields," says Carl Webb, Fluminense Life Extension Project Manager, Shell Oil Company.  "We are grateful to the entire Oil States team for their key contributions and to the many individuals and companies that ensured all the pieces fell into place."
Congratulations to everyone involved in this achievement!