Oil States Awarded Funding to Develop P&A Technology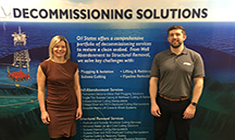 Oil States has been awarded over £80k in funding from the Scottish Government's Decommissioning Challenge Fund (DCF).
The award, which was recently announced in St. Andrews, is part of a £2.5m funding pot, shared between 12 decommissioning projects. Oil States' successful application will be used to develop innovative technologies that will enable both time efficiencies and cost savings in the Well Plug & Abandonment (P&A) operations of subsea wells.
Well P&A remains one of the highest cost operations when decommissioning offshore wells in the UKCS and across the globe. It is an area that desperately requires new ideas to help achieve the targeted 35% reduction in decommissioning costs.
Oil States' development of new P&A technology will not only provide the industry with cost and time savings, but it will also strengthen the Scottish supply chain and help to showcase its decommissioning excellence. The new technology developed by Oil States will enhance the company's existing decommissioning portfolio and its combined package offering.
Oil States UK will design, manufacture, assemble and test the new P&A tools in-house. The company will train its offshore workforce to run and maintain the new equipment offshore, bringing new opportunities to employees, as well as new skills and knowledge.
The Scottish Government launched the Decommissioning Challenge Fund in February last year, with the intention of improving ports and supporting innovative salvage and transport methods. £4.8 million in funding was allocated to various projects last year and in August this year, Energy Minister, Paul Wheelhouse, was in Aberdeen to pledge a further £5m for the third round of the DCF.