Oil States Introduces Advanced Merlin™ Riser Technology for Deepwater Subsea Mining Applications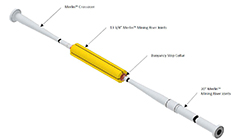 Oil States, a global leader in complete riser systems for drilling & workover applications, has now translated it's experience in designing and manufacturing riser systems for oil & gas to meet the needs of the growing subsea mining sector.  Based on proven Merlin™ Riser Technology, Oil States now offers subsea mining riser systems.
The Merlin™ Subsea Mining Riser System incorporates the world-leading high-fatigue, high-load capabilities of Oil States Merlin connectors which have been proven for decades in casing, conductor, tension leg platform (TLP) tendons, drilling and completion riser, caissons and FPSO turrets. It features non-rotational makeup with dual metal-to-metal seals and is safely and rapidly assembled with options for fully automated, hands-free makeup.  This reduces the running time of the riser especially in deepwater applications as well as improves safety factors.
In addition to our subsea riser capabilities, Oil States offers a unique combination of complementary technologies and services to bridge technology gaps and to enable subsea mining operators to achieve their overall strategy and objectives. Whether subsea pipeline technology to connect excavators to the riser system or specialized topside deck equipment for launch & recovery (LARS) or lifting and material handling, Oil States can provide a customized integrated solution.  From upfront concept selection to the design & manufacture as well as offshore operational support services available globally, Oil States is ready to support.
Oil States Subsea Mining Solutions include:
Subsea Mining Riser Systems
Launch & Recovery, Lifting & Material Handling Systems
Active Heave Compensated Cranes & Winches
Subsea Flexible and Rigid Pipeline Gathering Systems
Subsea and Topside Valves
Subsea Mining Riser Systems/Vertical Transport Systems
Custom Engineered Solutions
Through our RiserTec subsidiary, Oil States can support your upfront concept selection and evaluation process with the following services:
Riser System FEED & Detailed Engineering
Installation Engineering
VIV Analysis
Structural Analyses
Pipeline Engineering
Flexible Pipe Offload & EWT Systems
Riser Monitoring
For inquiries and to find out more about how we can support your unique project requirements, please contact George Adams at +44 1506 896000 or email us at Subsea Mining Systems