Oil States Awarded Marine Cranes Contract for Leviathan Platform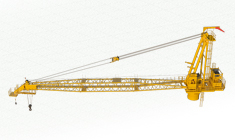 Oil States Industries' Marine Crane and Deck Equipment division in Houma, Louisiana, has been awarded a three-crane contract from Noble Energy to supply Nautilus™ API 2C offshore pedestal cranes. The cranes will be installed on Noble Energy's Leviathan Platform in the Leviathan field off the coast of Israel.  The Leviathan natural gas field will supply Israel with natural gas using a subsea system that connects production wells to a fixed platform located offshore, with tie-in onshore in northern Israel. After testing, delivery to the topside fabricator is scheduled from Oil States' Houma, Louisiana facility in Q1 2018.
The Nautilus line of marine cranes is respected worldwide for quality, safety, and engineering excellence. Nautilus cranes are in use around the world on all types of fixed and floating structures; each of the cranes to be supplied to Noble Energy has a load capacity of 70MT.
Oil States Industries, celebrating its 75-year anniversary this year, offers integrated systems and solutions that enable customers to cost-effectively build and operate high-performance offshore developments by overcoming complex challenges from drilling to decommissioning. With an aggressive growth plan in place, the company is poised to become a major global OEM and provider of systems for offshore drilling and construction.