45 Ton Radial Logging Crane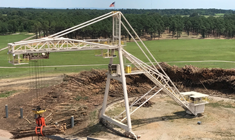 Oil States Marine Cranes & Deck Equipment division delivered a 45 ton Radial Logging Crane.
During mid-2017, Oil States Marine Cranes & Deck Equipment division in Houma, LA was approached by a timber automation company, about manufacturing the structure for their 175' X 45 ton logging crane. These cranes are used at their facilities to offload arriving logging trucks and also to load the conveyor which takes the logs to be processed. This is the first venture by Oil States into the logging industry and it is offering some new opportunities. The scope of work included all fabrication, machining, and painting of the structural components.
The crane, as shown in the photo, pivots about a bearing center support. The two large front legs (36" diameter pipe) ride on a circular rail track which allows the crane to stack the logs around the perimeter for storage until needed to feed the hopper. The cabling and sheaves are located on a sliding carriage below the boom and attach to a large grapple specially designed to grab a load of logs (the entire 18 wheel truck load) in one lift. The carriage is able to slide back and forth along the boom structure for easy placement of the load.
Production of the first crane structure began in July and was completed and shipped to the North Carolina mill site in early November. Oil States was awarded a 2nd crane contract during October for delivery to an Alabama mill, which was completed at the end of February 2018.