OSI RENEWABLES™ NAMED BARGE MASTER DISTRIBUTOR, MANUFACTURER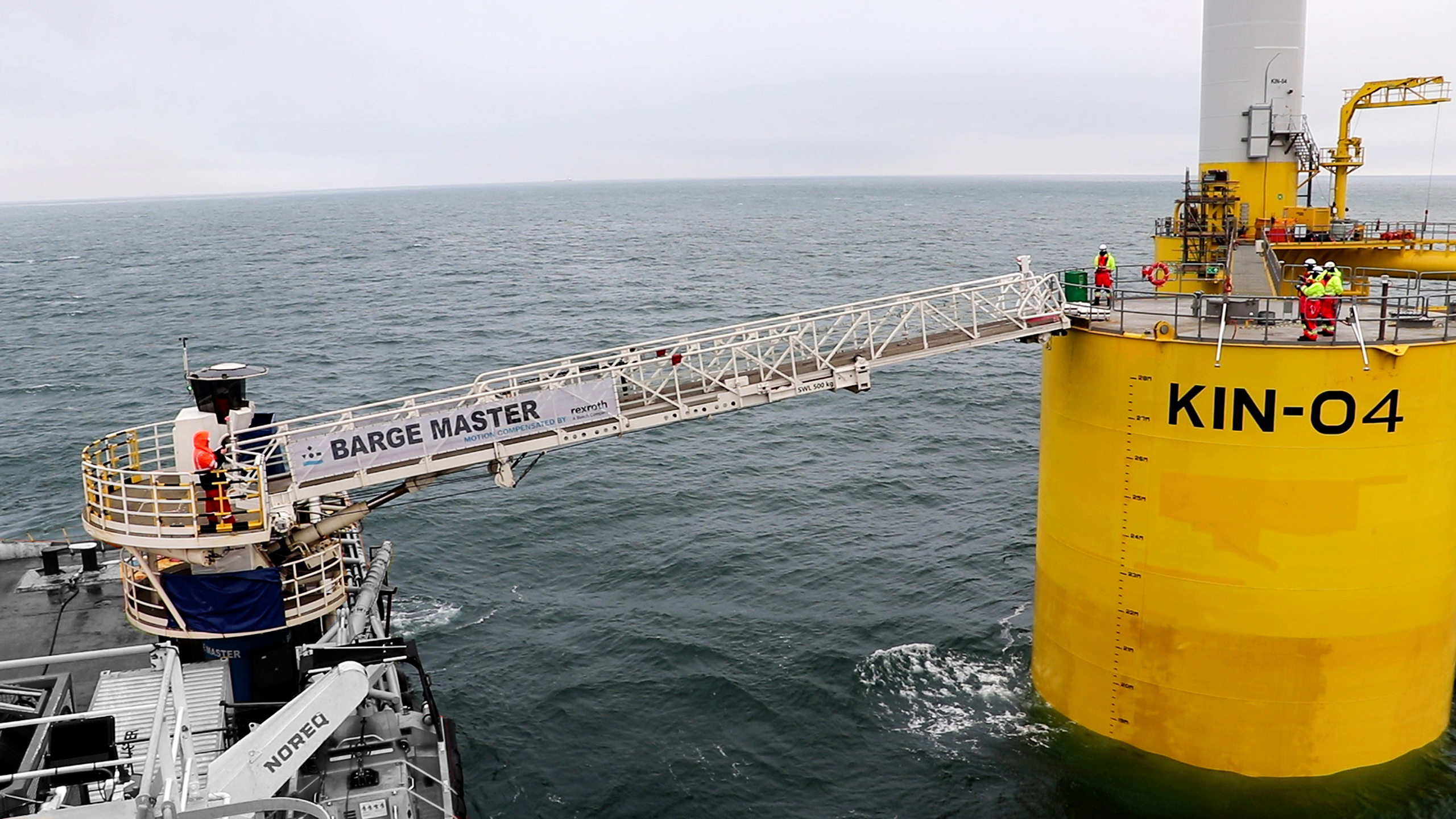 OSI RENEWABLES™ NAMED BARGE MASTER DISTRIBUTOR, MANUFACTURER
Collaboration Expands Availability of 3D Motion Compensation Gangways to Offshore Wind
HOUSTON, TX (August 8, 2022) – OSI Renewables™, a recently introduced product offering of Oil States Industries, Inc. ("OSI" or the "Company") leveraging more than four decades of marine industry deck equipment manufacturing and aftermarket services expertise, announced today it has entered into an agreement with Barge Master BV based in Rotterdam, Netherlands to be the exclusive distributor of the Barge Master Next Generation Gangway in North America. The agreement also grants OSI Renewables the opportunity to manufacture Barge Master motion-compensated gangways in the United States. Barge Master is an industry leading developer of motion-compensated solutions that provide continuous access to offshore structures while providing for the safe and efficient transfer of crew and cargo irrespective of weather.
The collaboration enables OSI Renewables to expand its growing portfolio of innovative solutions for the offshore wind industry and gives American-based offshore wind service providers and vessel builders the opportunity to cost-effectively incorporate proven European technologies built and serviced in the United States by a prominent U.S. manufacturer and aftermarket service provider.  This facilitates vessel operators building Jones Act-compliant vessels, which are required to be built and flagged in the U.S. OSI Renewables will also provide engineering-driven aftermarket service and support for Barge Master's motion-compensated Next Generation Gangway.
"Our growing relationship and expansion of the Barge Master technology into these markets demonstrates our mutual commitment to the safe development of offshore wind resources as a key part of the global energy mix," said Brian Mizell, Vice President – Business Development & Marketing for OSI. "Together, we are well-positioned to equip Jones Act-compliant vessels to support offshore wind field services. We're excited to collaborate with Barge Master and leverage our global resources to provide localized manufacturing and service support of the proven Next Generation Gangway."
Through a global footprint spanning 14 countries and more than 1,300 employees, OSI applies its engineering and analysis, manufacturing, testing, and offshore operational experience to provide integrated systems and services.
About Oil States, International, Inc.
Oil States International, Inc. is a global provider of manufactured products and services to customers in the energy, industrial and military sectors. Oil States' manufactured products include highly engineered capital equipment and consumable products. OIS is headquartered in Houston, Texas with manufacturing and service facilities strategically located across the globe. Oil States is publicly traded on the New York Stock Exchange under the symbol "OIS".
For more information on the Company, please visit Oil States International's website at www.oilstatesintl.com.
About Oil States Industries, Inc.
Celebrating 80 years in the energy industry, Oil States Industries, Inc. a subsidiary of Oil States International, Inc. [NYSE:OIS], is a global provider of critical systems, components, consumable products and service to the traditional and renewable energy, industrial and military sectors. The Company solves key challenges in drilling and completion, production, asset management and life extension, decommissioning, renewable energy, deepsea minerals, and marine lifting and handling.
With the segment headquarters in Arlington, Texas and manufacturing and services facilities in 14 countries, the Company is focused on connecting the energy future with traditional and lower-carbon energy sources for a multisource energy mix.
For more information, please visit www.oilstates.com.
About OSI™ Renewables
OSI Renewables™ ("OSIR"), a product line of OSI, leverages Oil States' 80-year history, more than 40 years of deepwater experience, global footprint spanning 14 countries and over 1,300 people to provide offshore fixed and floating wind systems, lifting/handling solutions and offshore services. OSI has developed a strong track record of supplying foundation and grouting systems for fixed bottom structures  OSI is also a leading global tension-leg platform ("TLP") mooring system expert, having manufactured and installed 95 percent of the world's TLP mooring systems. Its patent-pending Fixed TLP ("FTLP") incorporates its decades of deepwater TLP learnings to minimize levelized cost of energy (LCoE) across the offshore wind life cycle.
For more information, please visit https://www.osirenewables.com/.
About Barge Master:
Barge Master is a Dutch company with its headquarters in Rotterdam and was founded to conquer weather downtime. By eliminating vessel motions Barge Master provides maximum uptime during offshore operations. Barge Master's portfolio of motion compensation systems has been used in multiple projects around the world.
The innovative nature of the Barge Master technology is recognized by the European patent office, industry specialists and several international innovation awards.
Learn more at www.barge-master.com.
Company Contact, Oil States International, Inc.:
Lloyd A. Hajdik
Executive Vice President, Chief Financial Officer and Treasurer
+1 713 652 0582
Company Contact, Oil States Industries, Inc.:
Brian Mizell
Vice President- Business Development & Marketing
Phone +1 817 548 4200
Press Contact, Barge Master:
Elvira Jansen, Barge Master
Communications & Marketing Manager
Phone +31 (0) 10 409 0060