Oil States Provides Key Connections for China's Lingshui 17-2 Gas Field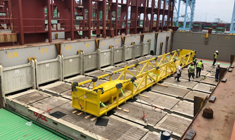 Lingshui 17-2 is a deepwater gas field located in the South China Sea, near China's Hainan Province. With water depths of up to about 1,500 meters, the field is the first ultra-deep project developed by China National Offshore Oil Corporation (CNOOC) in the region.
"We are pleased to work with CNOOC and enable the development of the Lingshui gas field with the supply of the first-ever deepwater steel catenary riser FlexJoint™ assembly packages for China," said Jeff Jewitt, project manager. "The execution of this global project involved bringing together scopes of supply from international suppliers as well as six different Oil States facilities."
The Lingshui 17-2 project includes a subsea production system, subsea pipelines, two 10″ SCR production risers, two 12″ production risers which connect the subsea pipelines to a semi-submersible production facility, and two 18″ SCRs connected to a 95km gas export pipeline.
Oil States' scope of work included the design of FlexJoint™ flexible connectors, receptacles, mock-up tools, cross-haul tools designed by the Arlington, Texas team.  Execution of the project, however, has demonstrated Oil States global coordination and ability to tie it all together with each of the locations providing the following:
Eight (8) receptacles, cross-haul tools, and fabrication completed in Houma, Louisiana
Four (4) mock-up tools, six (6) FlexJoint™ connectors, connection molding and testing fabrication provided by Arlington
Forgings for the flexible connections provided by a supplier in Italy with precision machining and Inconel inlay performed by Oil States – Montgomery Machine Co.
FlexJoint™ connection welding was qualified and performed by Acute Technical Services at their northwest Houston facility and Oil States' Houston ship channel facility
Pull-in head design, fabrication, and testing, as well as final assembly and packaging, was performed by Oil States' Houston business unit
"Partnering with CNOOC on the Lingshui project has provided an exciting opportunity to bring together all the resources and expertise across Oil States to solve unique technical and installation challenges," said Mike Hogan, Oil States Vice President- Global Projects. "It has been our pleasure to support this first ultra-deep gas project in China and assist in meeting the country's growing energy needs."
Connecting the Energy Future™
Oil States Industries is a technology company that is advancing the future of energy today.  We partner with you to bridge gaps in the industry with enabling technology and to deliver the next generation of energy infrastructure.  Our innovative equipment, systems, and services enable transformation in the industries we serve, providing game-changing new approaches from concept to delivery.  Oil States Industries is headquartered in Arlington, Texas, USA, and has a global presence with locations in 14 countries and more than 1,700 employees worldwide.
Get connected to Oil States through our LinkedIn, Twitter and YouTube.