Oil States Houma and ExxonMobil Team up on Computer-Based Training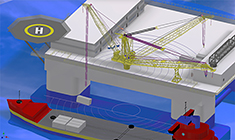 ExxonMobil chose Oil States Houma to partner with them in creating more than 40 Computer-Based Training programs (CBT), considered the first of their kind in the industry. The programs cover different aspects of cranes.
The premier program, titled "Load Charts," was a team effort that included engineering, training, project management and technical support. It was successfully delivered in June 2015. This program comprises seven modules: API Spec 2C Crane Types, Offshore Installation Types, Types of Ratings, Principles of Load Charts, Information Charts, Dynamic Environmental Conditions, and Lifting Types & Scenarios. These interactive modules are designed to instruct students on the title subject as well as test their related knowledge.
OSI Houma is currently engaged to create and deliver another three CBT programs in 2015 and approximately 12 more in 2016.